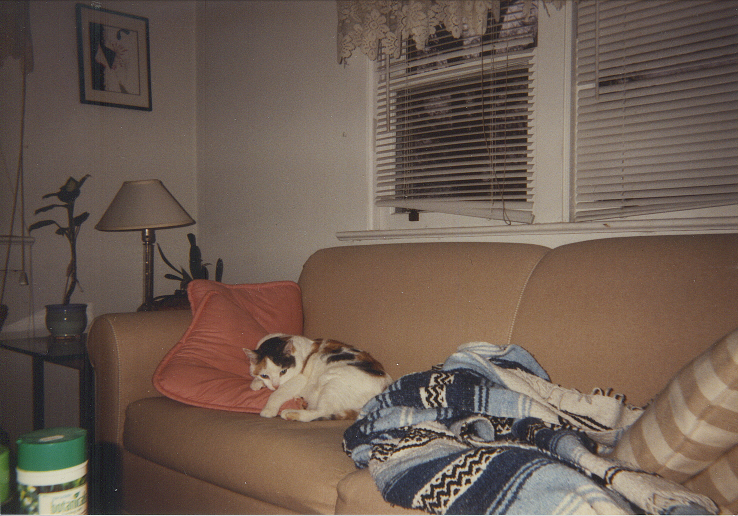 My sibling unit finally came through with some old style pictures, you know the offline kind on paper, of our family cat Sprinkles. I decided to scan them in and post one. This picture was taken in the early 00's toward the end of her life.
We first got Sprinkles as a slightly too young kitten. My father called my sister from work asking her if she wanted a cat. One of his customers had a box of kittens in his warehouse. My sister said "yes" and my father picked what he thought was "the quiet one" whose colors matched our living room.
Sprinkles was scared shitless the first day she arrived home. We were eating dinner and she kept running out of the kitchen into the living room where she got even more frightened. She was too young to have learned to meow. She sounded like a human baby. My sister kept bringing her into the kitchen and she kept running back out into the living room and crying.
Sprinkles was so small she couldn't jump straight up onto my sister's bed. Sprinkles had to stop at the box spring, take a rest, and jump the rest of the way from there. In the early days Sprinkles liked wrapping herself around my sister's neck like a calico snake, before she fell asleep.
Sprinkle always thought she was just another human. She would try to sit in a chair on her butt and hind legs like a person. When my mom would call for dinner Sprinkles would come running and sit in an empty chair.
I could go forever about cherished memories of pure unrefined cuteness. Suffice it to say that Sprinkle will always be that kitten in my mind and that she pumped an unquantifiable amount of joy into our home.
Similar Posts: