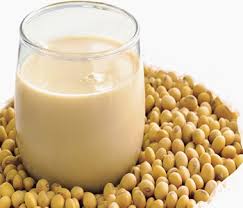 Many people for financial and other reasons want to scare people away from using soy foods. A common false statement they make is that Americans can't look to Asia to see that soy consumption is safe. Asians only use amounts of soy small enough to be condiments and that Americans eat far more soy than Asians ever did.
Well, not according to this Beverage Industry web site:

Asia continues to dominate soy milk consumption

Eight of the top 12 soy drink consuming countries are Asian with Hong Kong residents consuming the most at 17 litres per year each, according to TetraPak data.

Next were Singapore (almost 12l/day), Thailand (just over 10l/day), China (9.5l/day) and Malaysia (9l/day). The data were presented at a soy conference in Taiwan recently by Michael Loh, the business development director at supplier, London Agricultural Commodities.

The highest level of soy drink consumption among non-Asian nations were Australia, Canada and Spain all at about 3l/day.

US consumption, which market researcher Mintel has noted is falling for all soy foods and beverages, was lower at about 1.5l/day.
Similar Posts: