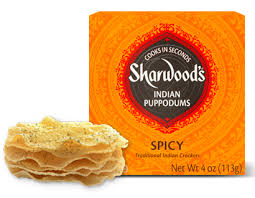 I first discovered puppodums in college through an Indian housemate. I thought they were nice, but I assumed they would be hard to find and laden with oil and calories like many Indian snacks.
I rediscovered these wonderful snacks at an oil free, dairy free, Indian cooking class.
Puppodums are similar to hard tortillas being made out of lentil and rice flour. You toast them over a stove or pop them in the microwave for 30 seconds which causes them to puff up. The result is something like a cross between a potato chip and popcorn with a pleasantly spicy taste.
During the class the empty box was passed around and I was pleasantly surprised to find out what a good deal puppodums are nutritionally. A serving has only 80 calories, but gives 6 grams of protein, 8% of the DV for Iron and 70% of the DV for calcium. The high calcium content is the result of lime being one of the ingredients.
A four ounce box, which gives you a generous amount of puppodums cost less than $3 at a Whole Foods.
I am certainly going to be eating more puppodums.
Similar Posts: